Peach and I have been working on to make sure everyone knows exactly how to be a pug, but as much work as we might know about living like a pug, we've got more work to do. With your help, we'll be able to collect all the information we need to make Pug Time a truly exceptional game.
---
After some discussion with Peach, we decided the best way to do this was the #7DayPugChallenge! Post one picture/video for each item on each day and include the hashtag #7DayPugChallenge and what day you're on. On the last day, make sure to challenge at least one other person! If you complete it, you'll be officially recorded as a true pug and entered to potentially receive a free copy of Pug Time post-production. Winners will be selected one week before the Kickstarter campaign begins.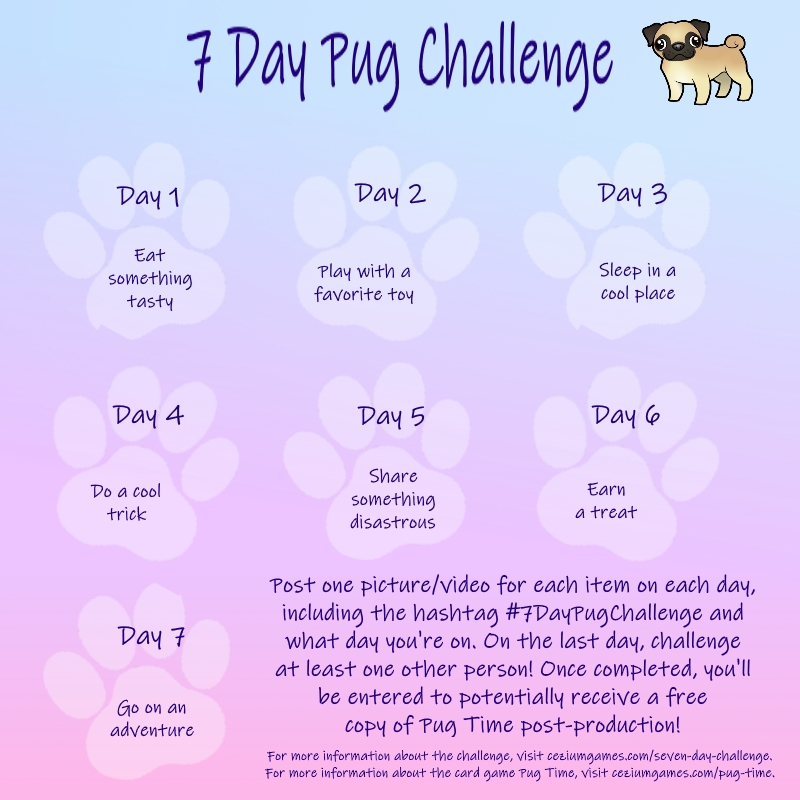 The 7 Day Pug Challenge Official Rules
---
While the challenge is called the "7 Day Pug Challenge" pugs are not the only ones who can live the pug life; many other dogs, animals, and people can choose to live life like pugs do, and so are absolutely eligible to be a part of the challenge.
Anyone may compete in the challenge at any time. Although players are required to challenge others to finish it, new players may start whenever they so choose.
Every day must be completed and at least one person must be challenged at the end of the event to be entered into the pool of people eligible to receive a copy of Pug Time. Please include the promotional flyer when challenging others or tag @ceziumgames on Twitter or @peachthepuggo on Instagram so new challengers will understand requirements.
Pictures/videos can be from any time - they are not required to be taken on the given day. If the picture is from just a few weeks earlier (or even years), it's completely acceptable to use that picture on a given day, as long as it is in line with the requirement.
Pictures/videos for a given day need to be tagged with the #7DayPugChallenge and the current day of the challenge you are on. For tracking purposes, please include @ceziumgames on Twitter or @peachthepuggo on Instagram.
Pictures/videos must be in line with the given requirement for the day. All entries will be judged by Cezium Games for successfully demonstrating the given requirement for that day.
Pug Time has not yet been manufactured and it is entirely possible the game will not go into production. Rewards will only be given out dependent upon the success of the Kickstarter campaign.
Games will be given out lottery style (completely random), with a minimum number of 5 copies being distributed. Dependent upon the success of the challenge and the number of people that complete the challenge, more copies may be released. The chances of winning a copy are entirely dependent upon the number of people who complete the challenge.
Winners will be contacted through the medium (Twitter or Instagram) on which the challenge was completed. If no response is received within one week of a winner being chosen, another participant will be chosen at random and the previous winner will forfeit his/her copy.
The Challenge begins on October 17th, 2018 at 12 am (EDT). The winners will be announced one week before the Kickstarter campaign begins, likely in the last week of January. More explicit information will be made available as the final date approaches. Winners will be messaged out through social media and on this page.
Backing the Kickstarter campaign will in no way increase the likelihood of earning a copy of Pug Life. There is no purchase necessary to be entered and win.
All participants must be 18+ or have the consent of their legal guardian to receive a copy of Pug Time.
No employee of Cezium Games or family members are eligible to receive a free copy of Pug Time through this promotion.
Anyone found to be using multiple accounts to complete the challenge will be eliminated from prize contention.
Participants must complete the challenge on either Twitter or Instagram. Please abide by all rules on both sites. Please adhere to their privacy policies and terms. Twitter and Instagram are both released from any liability for this challenge.
If necessary, Cezium Games may be contacted through email at ben@ceziumgames.com.